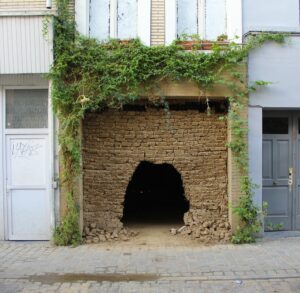 Iatromantis
2014 Impasse-temps Bruxelles
Dans l'antiquité grecque, il existait une méthode de soin nommée incubation. On passait une nuit dans une grotte sacrée gardée par un initié, le Iatromantis. Les rêves étaient un message envoyé par les dieux amenant la guérison. Iatromantis est ici couché au fond du trou d'où l'argile des briques a été extraite. Un mur transpercé ouvrait le passage à l'exposition. Les lumières soudain coupées, il en sort avec une lampe frontale. Le faisceau lumineux passae sur le visage des spectateurs un instant éblouis. La lumière dévoile des objets, reliques de vœux, d'obsessions guéries. Une quantité d'objets contemporains divinisés comme des ex-votos: mégots de cigarettes, chaussures à talon, walkmans,… Le faisceau lumineux de la lampe se change en celui d'un projecteur et au plafond défile le songe messager des dieux.
In Greek Antiquity, there was a method of care called incubation. The sick people went to a sacred cave guarded by an initiated, the Iatromantis. They lay down in a bed to let come the dreams. They were considered as a message sent by the gods allowing the cure.
This exhibition has to be understood as a global process of transformation of the space, everything was built in situ. The clay used for the bricks was directly extracted from the ground of the exhibition space. Once the façade wall was unsettled, I built this wall which is a an entrance to the exhibition. Then I did three times this ritual : At first, you could see me lied down in the hole where from I took the clay. Then, lights off, I slowly went out of the hole with an headlamp. I trailed around the beam of light on the face of the dazzled spectators, and on the walls, where were revealed objects placed in holes and cracks, vestiges of impossible wishes, cured obsessions, a quantity of contemporary objects deified as ex-votos: butt of cigarettes, high heels, walkmans… I was going to lie down on a mattress, and there the beam of light turned out to be a projector light, showing a movie in the ceiling, the dream gods' messenger.